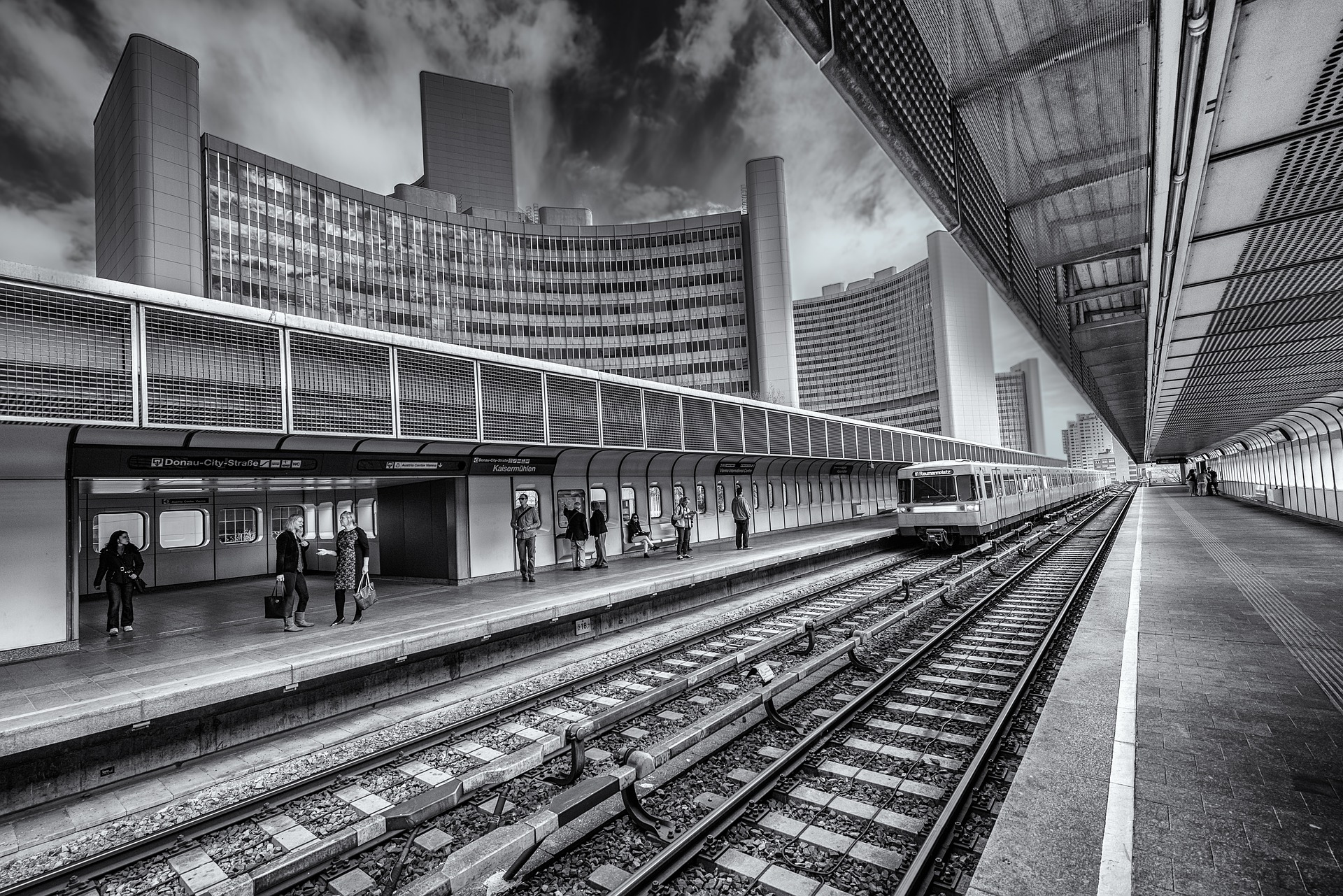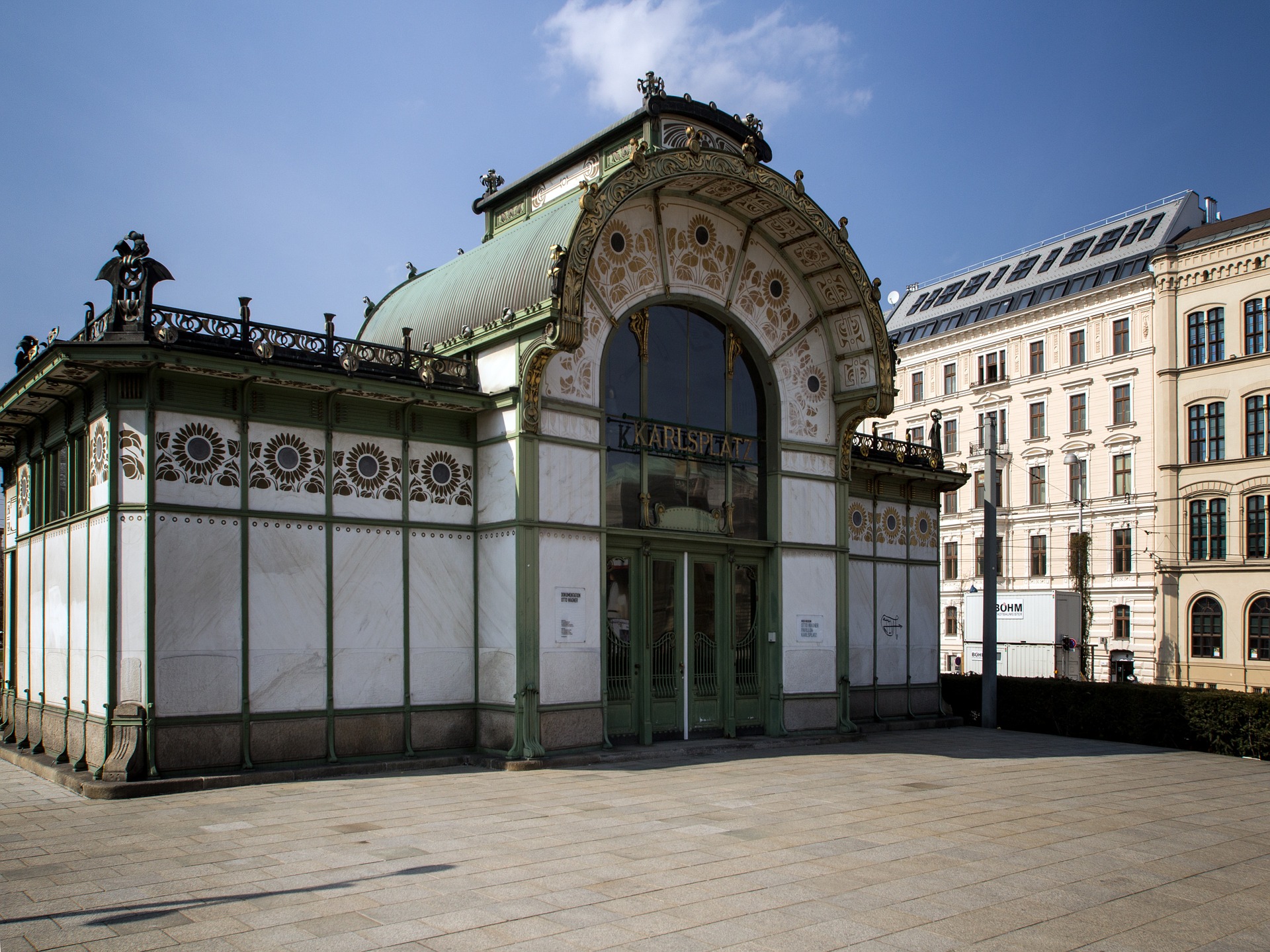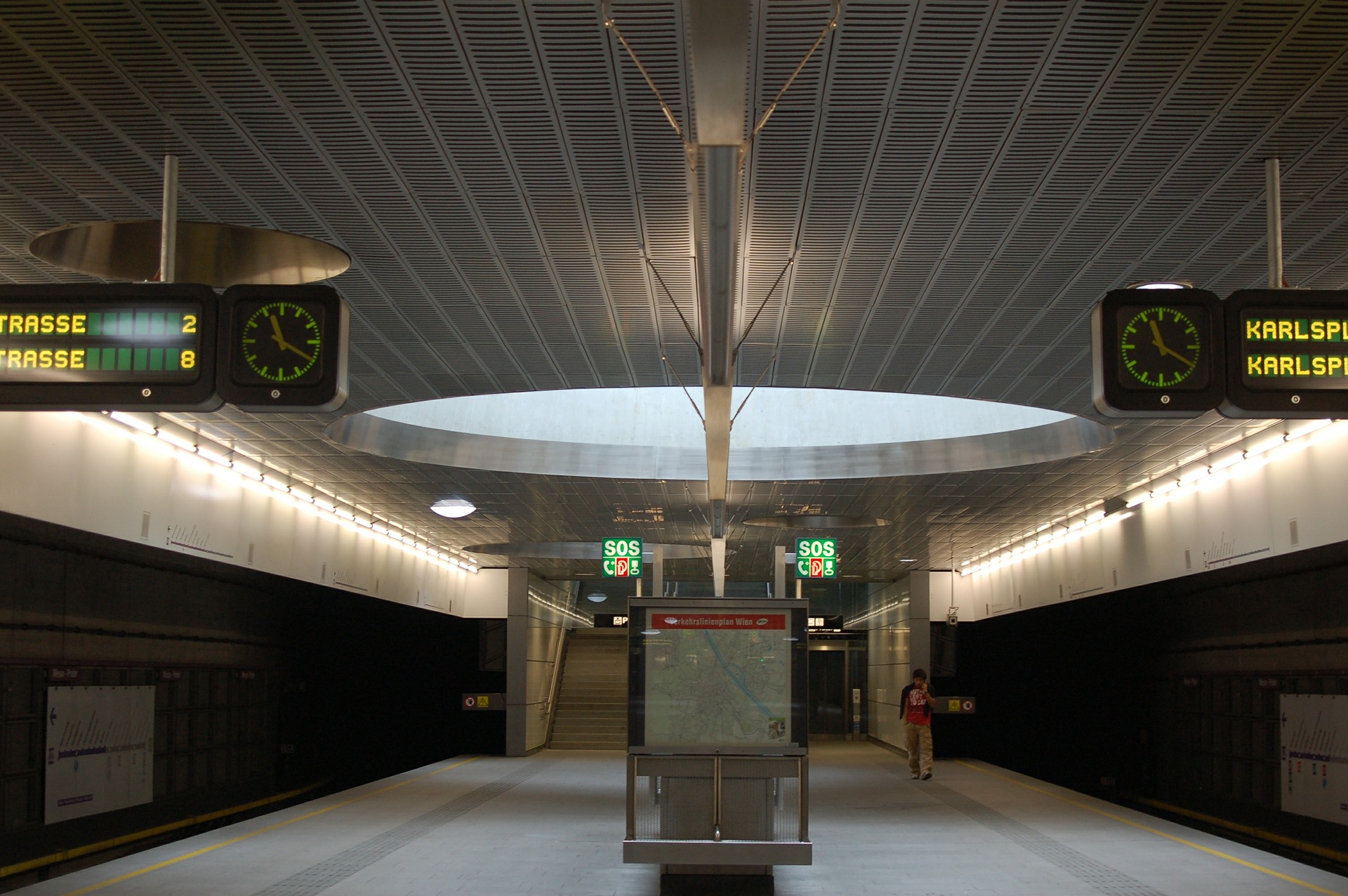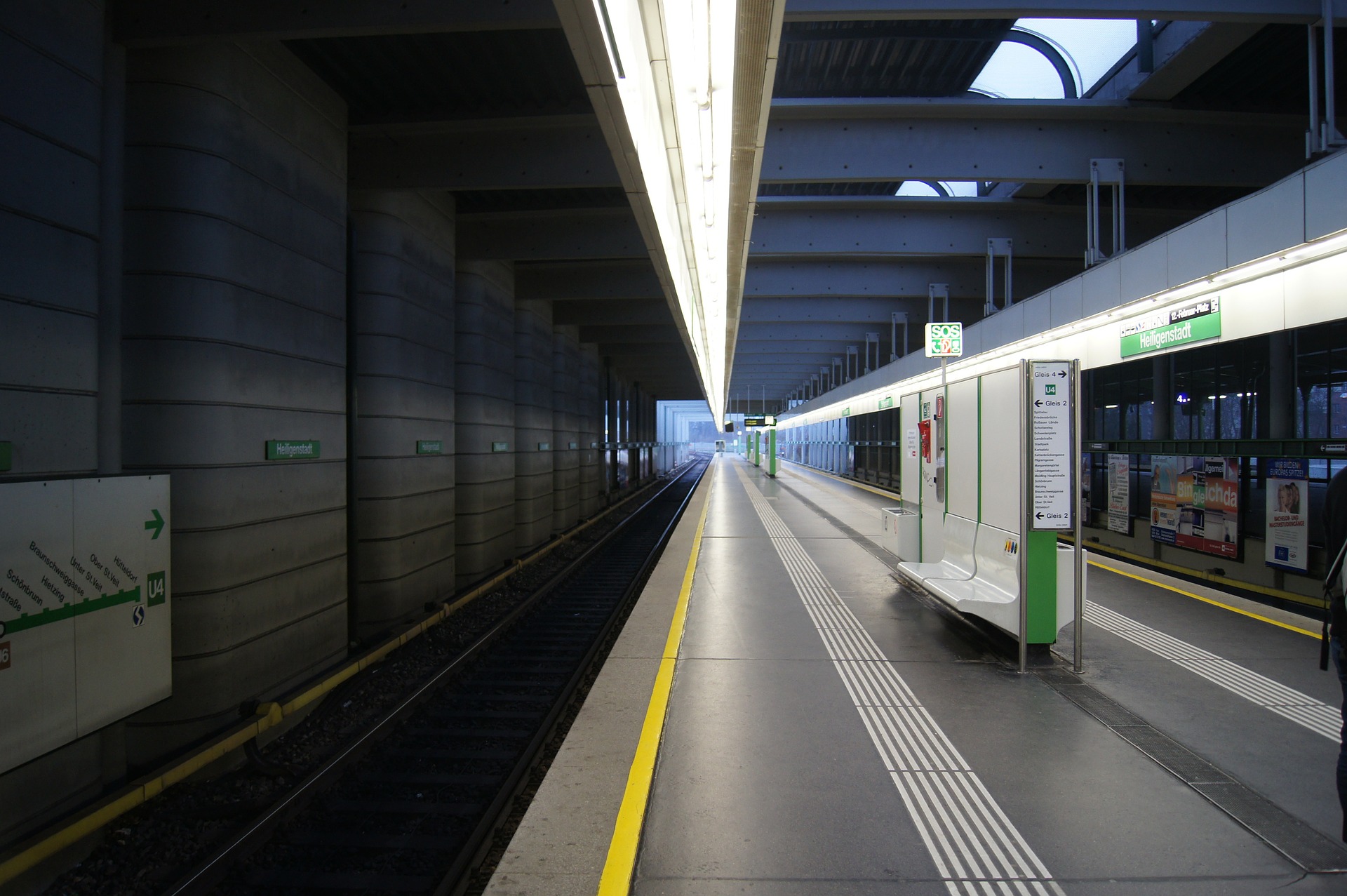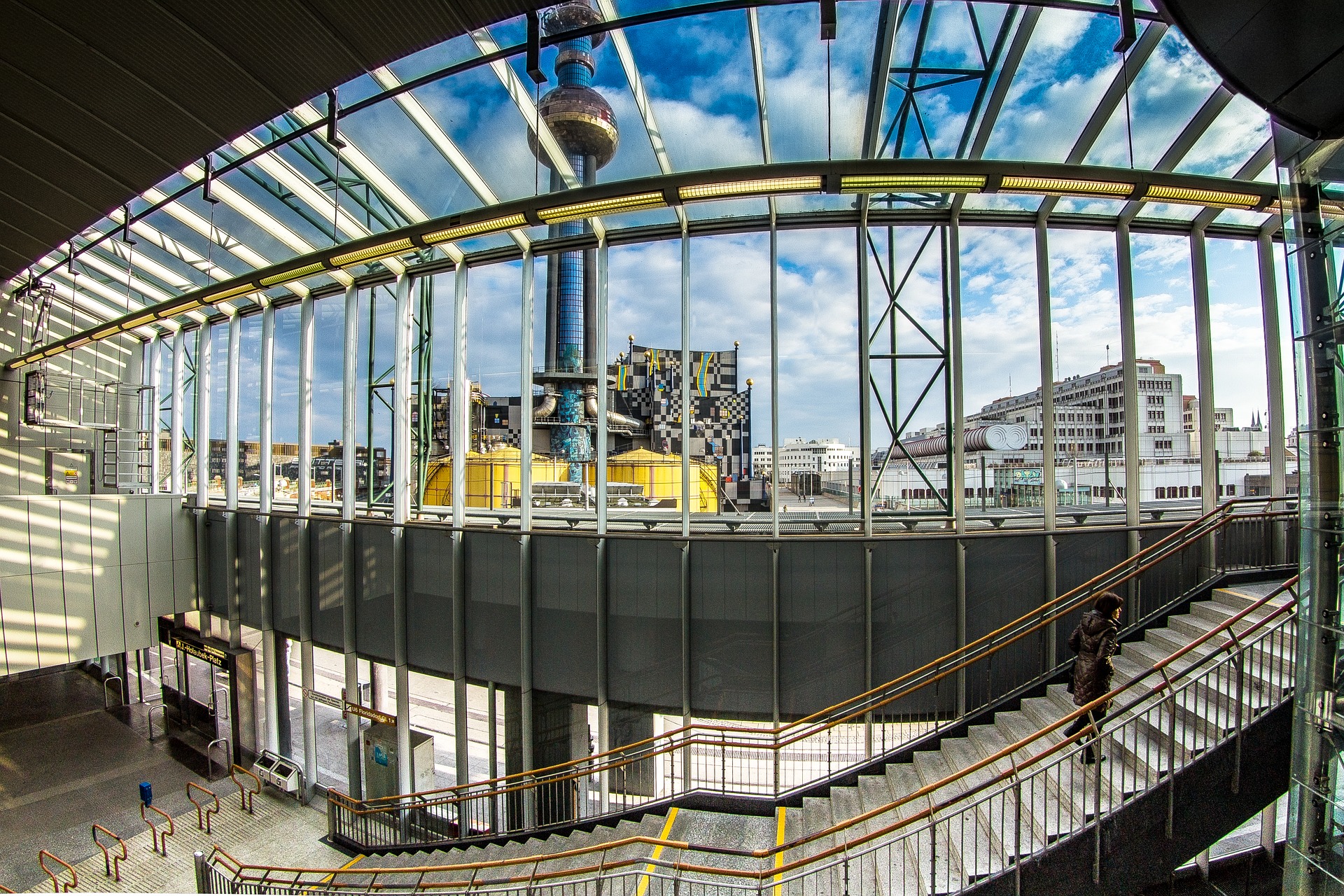 ---
The Vienna underground in comparison to other undergrounds:
| logo | town | opening | net length (km) | stations | inhabitants | passengers per year | annual ticket (€) |
| --- | --- | --- | --- | --- | --- | --- | --- |
| | Vienna | 1978 | 78.5 | 104 | 1,840,000 | 939,000,000 | 365 |
| | Athens | 1904 | 79.4 | 60 | 660,000 | 494,000,000 | 490 |
| | Barcelona | 1924 | 124 | 163 | 1,600,000 | 567,000,000 | 634 |
| | Berlin | 1902 | 211 | 173 | 3,500,000 | 1,010,000,000 | 761 |
| | London | 1863 | 402 | 260 | 8,540,000 | 3,500,000,000 | 3,990 |
| | Milan | 1964 | 100 | 113 | 1,320,000 | 670,000,000 | 330 |
| | Moscow | 1935 | 333.5 | 200 | 12,200,000 | 2,464,000,000 | 378 |
| | Munich | 1971 | 103.1 | 100 | 1,430,000 | 566,000,000 | 726 |
| | Paris | 1900 | 219.9 | 303 | 2,500,000 | 1,479,000,000 | 770 |
| | Prague | 1974 | 65.2 | 61 | 1,260,000 | 620,000,000 | 135 |
| | Rotterdam | 1968 | 47 | 38 | 610,000 | 86,000,000 | |
| | Stockholm | 1933 | 143.4 | 100 | 920,000 | 540,000,000 | 887 |
| | Warsaw | 1995 | 29.9 | 28 | 1,770,000 | 147,700,000 | 570 |
---
---
Vienna
The city with the silver arrow
Johann Benda began work as a technical drawer for the railway vehicle manufacturer Simmering-Graz-Pauker (SGP) without any relevant qualifications, and was soon responsible for successful railway train designs such as the Transalpin II.
In the 1970s, he designed Vienna's Type U underground trains, which also became known as 'silver arrows' due to their characteristic colour.
One train is made up of three twin units.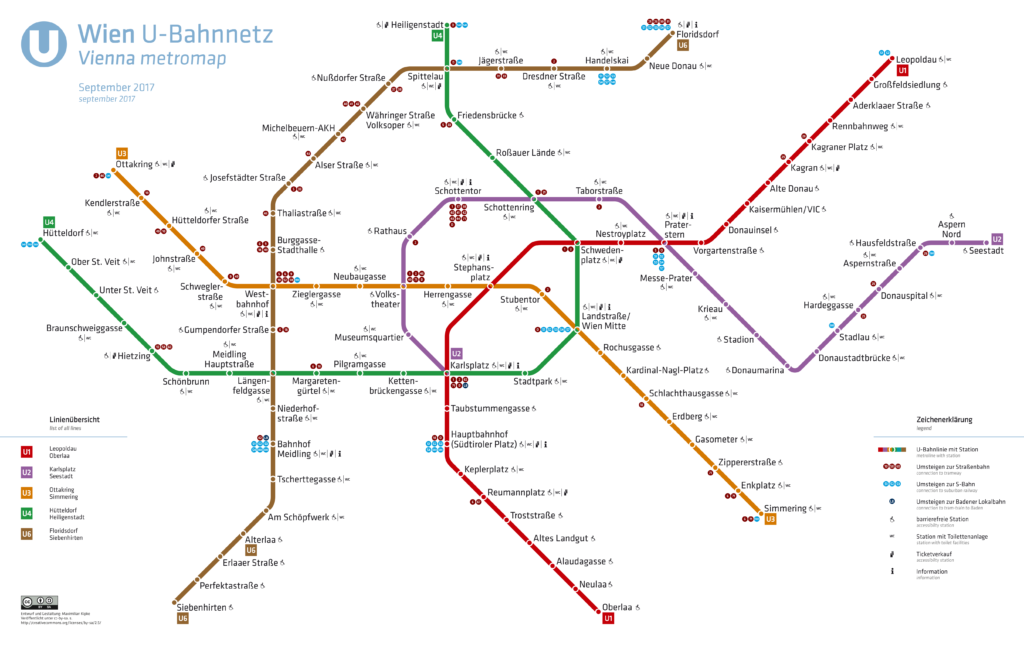 Network Maps, Vienna underground, 2017
Von HerrMay – Eigenes Werk, CC BY-SA 3.0, https://commons.wikimedia.org/w/index.php?curid=56112148
Athens
Underground to the past
The 'Attiko Metro', as the Athens underground is also known, was one of the first underground systems in the world.
However, the artefacts on display there are even older. Passengers can look in wonder at findings from ancient times, uncovered when the underground was being built, most of which can be found at the Syntagma and Acropolis stations.
Work to extend the underground network is regularly delayed due to the archaeological richness of the area.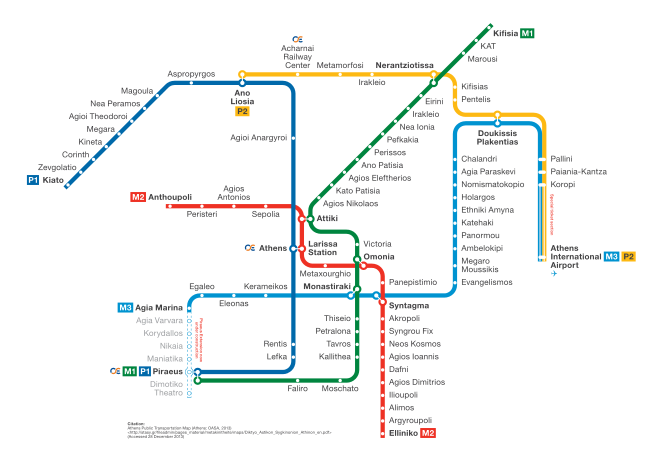 Network Maps, Athens underground, 2013
Von © Amaroussi.com / Wikimedia Commons, CC BY 3.0, https://commons.wikimedia.org/w/index.php?curid=30372337
Barcelona
One city, three gauges
The underground lines in Barcelona use tree different track systems: Line 1, which was originally intended as a junction line between two railways lines, travels on the 1,668-mm-wide 'liberian broad gauge'; Line 8 on the 'metre gauge' (1,000 mm) and the remaining line on the 'standard gauge' (1,436 mm).
Narrower tracks, such as the metre gauge, enable them to be built with sharper curves, such as those on aboveground lines through heavily built-up areas.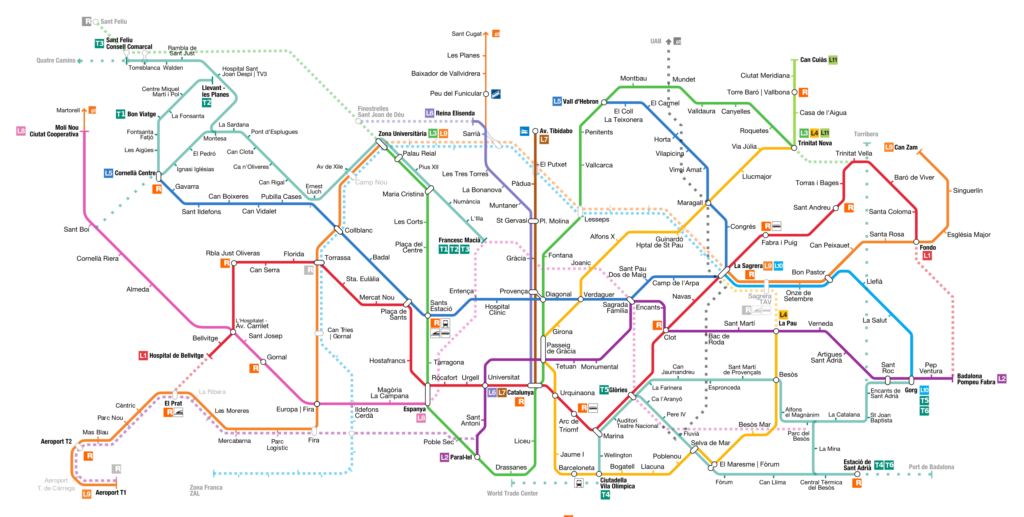 Network Maps, Barcelona underground, 2010
Von Vinals – Eigenes Werk, CC BY-SA 3.0, https://commons.wikimedia.org/w/index.php?curid=10675160
Berlin
Ghost stations
On Sunday 13 August 1961, eleven stations along the U6 and U8 underground lines in Berlin were closed for boarding and alighting.
The stations were located in the East Berlin district of Mitte, which extended into West Berlin. The trains had to travel from West Berlin through East Berlin without stopping and back to West Berlin again. Passengers travelled past the dimly lit platforms, which were devoid of people aside from the armed guards of the DDR, at a reduced speed.
This led to the birth of the term 'ghost stations'. After the fall of the Berlin Wall, all of the closed stations along the U6 and U8 were reopened.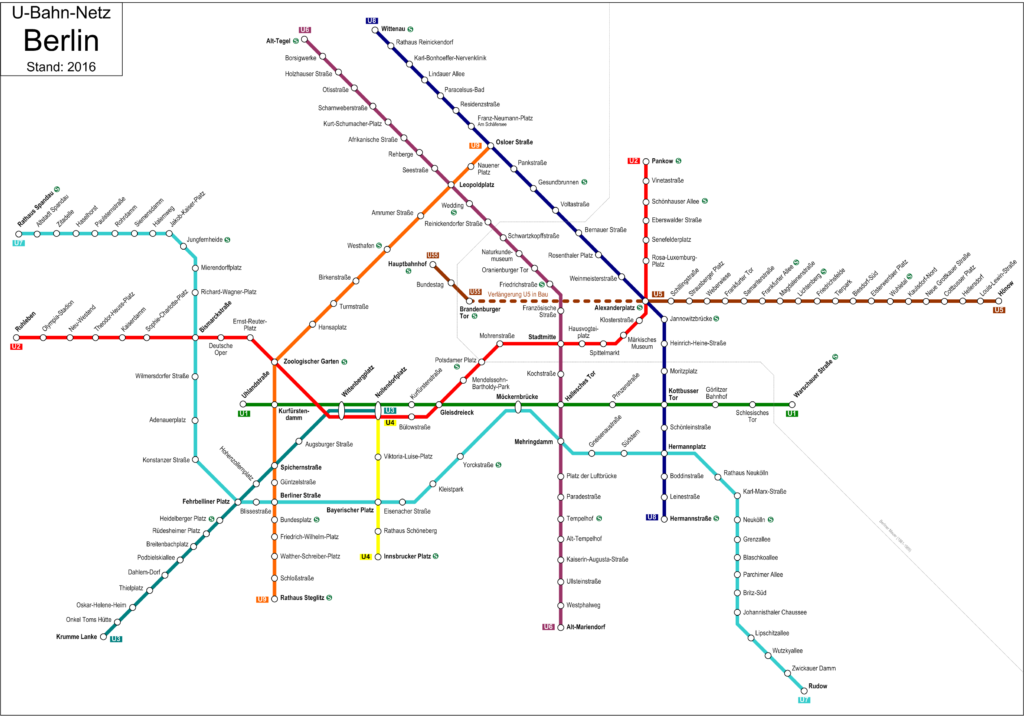 Network Maps, Berlin underground, 2016
Von User:My Friend – Eigenes Werk, CC BY-SA 3.0, https://commons.wikimedia.org/w/index.php?curid=39602760
London
The mother of the undergrounds
The world's first underground line was opened in London on 10 January 1863: the first section of today's Metropolitan line.
40,000 passengers were carried on this day. By 1880, the line was transporting 40 million people every year.
The first electrically-powered underground service only went into service in 1890. At 3.10 metres, the tunnel cross-section is approximately half the size normally seen in Vienna today.
London has the third-longest underground network in the world (402 kilometres) after Shanghai and Beijing.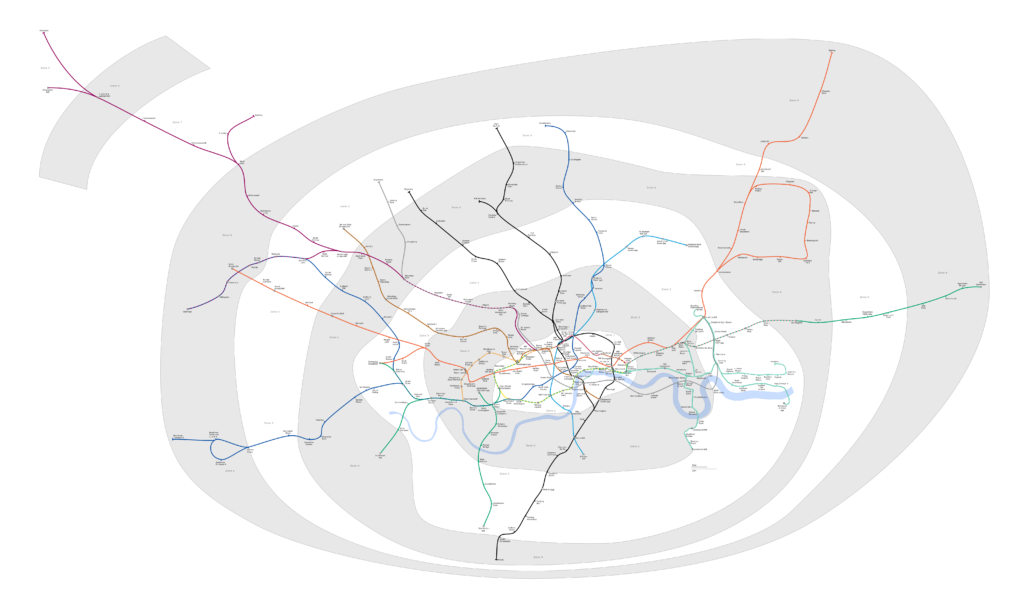 Network Maps, London underground, 2009
By Ed g2s File:London Underground full map.svgderivative work: DavidCane (talk) – File:London Underground Zone 1 Highlighted.svg, File:Docklands Light Railway.svg, CC BY-SA 3.0, https://commons.wikimedia.org/w/index.php?curid=6905220
Milan
Exclusive design
The so-called 'diaphragm wall method' was used for the first underground line. This was a tunnelling method in which the soil is excavated from above.
The construction work was financed by securities bought by the Milanese population.
The design of the M1 stations was given the renowned award Compasso D'Oro. One of the award winners, Bob Noorda, was later commissioned to design the New Yorker subway and the underground of Sao Paulo.
Network Maps, Milan underground, 2016
Von Arbalete – Eigenes Werk, CC-BY-SA 4.0, https://commons.wikimedia.org/w/index.php?curid=50737903
Moscow
Soviet splendour
At times, around 75,000 workers were employed at the same time building the first eleven kilometres of the Moscow underground network at the beginning of the 1930s. The second section in particular, which was opened in 1938, bears in hallmarks of socialist realism. Frescos, mosaics and sculptures present a glorified image of history.
The Baroque style was abandoned after the death of Stalin and the new underground lines took on a more functional look.
The network grow every year by around six kilometres between 1954 and 1970. With nearly 2,4 billion passengers every year Moscow's metro is one of the most highly frequented underground lines in the world.
Network Maps, Moscow underground, 2017
Von Sameboat – Eigenes Werk, CC BY-SA 3.0, https://commons.wikimedia.org/w/index.php?curid=24461295
Munich
An example for Vienna
The first section of Munich's underground network was only supposed to open on 1974.
However, when the city was awarded the 1972 Summer Olympic Games, the commissioning of the Munich underground was brought forward by two years.
The new underground system was so heavily used from the outset that underground trains of the same type had to be borrowed from Nuremberg.
The Munich twin unit, two connected carriages with two driver's cab, one at each end, served as the model, both in shape and design, for Vienna's underground carriages.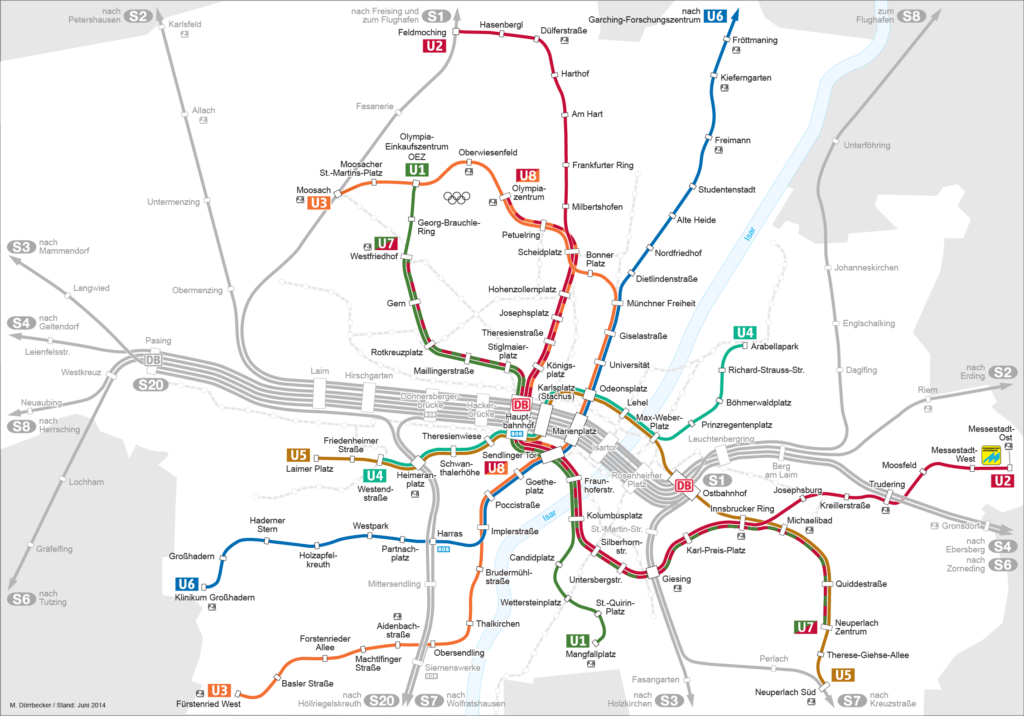 Network Maps, Munich underground, 2010
Von Maximilian Dörrbecker (Chumwa) – Eigenes Werk, CC BY-SA 2.5, https://commons.wikimedia.org/w/index.php?curid=9487233
Paris
A metro with rubber tyres
A number of metro lines in Paris have been using rubber tyres since the 1950s.
Such tyres enable trains to accelerate and brake more rapidly. Steel wheel are located on the inner side of the rubber tyres and play a role at turnouts and serve as a contact area for the mechanical brakes.
Steel wheels also support the carriage in the event of a damaged tyre. Additional steel wheels aligned horizontally keep the carriage from derailing by keeping it on the lateral rails, and they also conduct electricity.
Disadvantages of the rubber tyre system include greater energy requirements, considerable heat development and a more complex track system.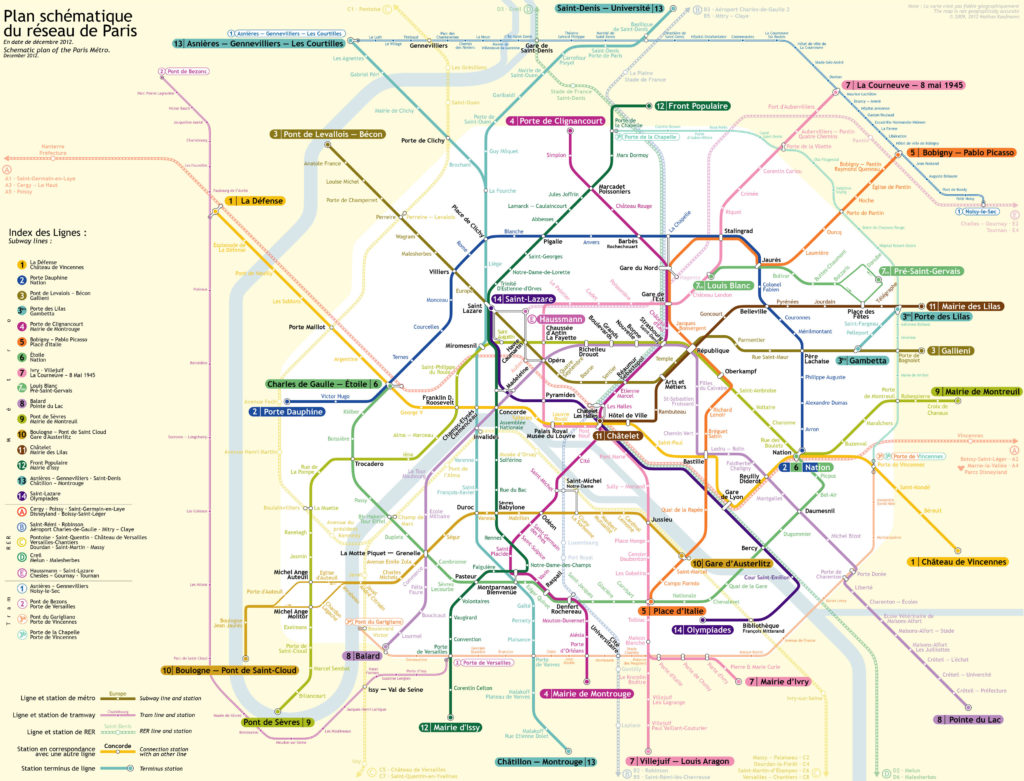 Network Maps, Paris underground, 2012
Von Rigil – Eigenes Werk, CC BY 3.0, https://commons.wikimedia.org/w/index.php?curid=8374274
Prague
A record for escalators
The Prague underground was built in the 1970s in the Soviet style, at times very deep underground. The station Náměstí Míru is 53 metres below the surface and has one of the longest escalators in Europa: 83 metres have to be travelled. Until recently, a number of escalators also travelled very fast, at speeds of nearly 9 km/h.
By way of comparison: escalators in Vienna travel at a speed of 2.34 km/h. The escalator speed in Prague is much lower now as a result of an EU norm.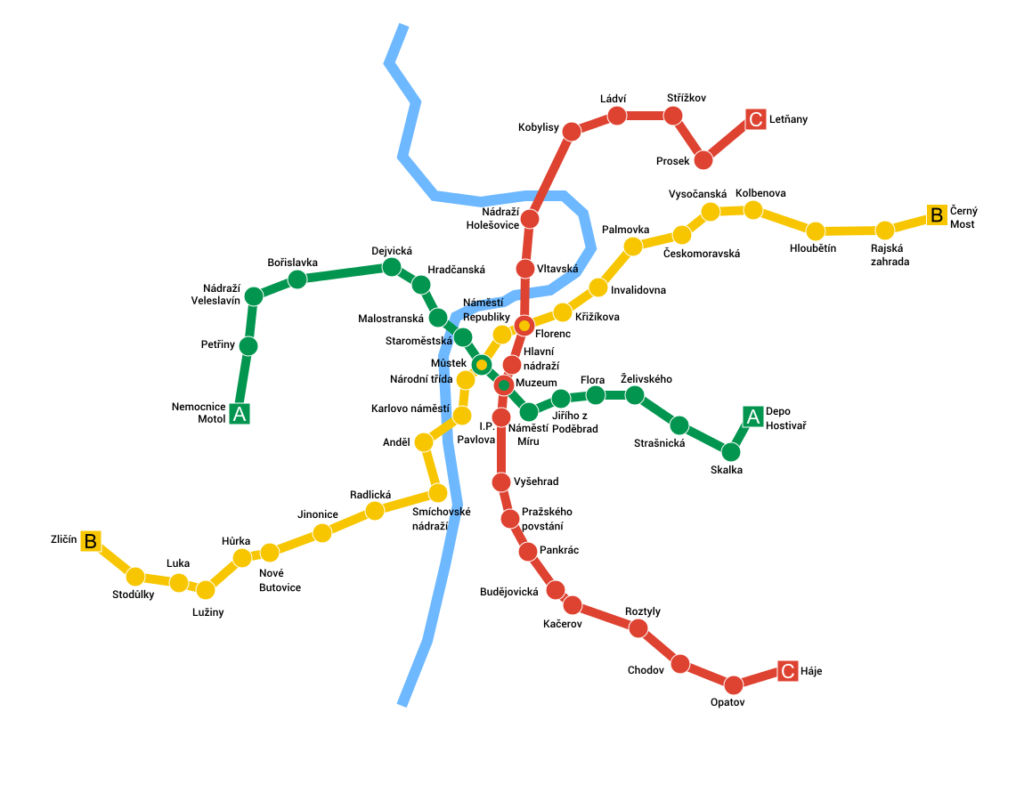 Network Maps, Prague underground, 2015
Von Zirland – Eigenes Werk, CC-BY-SA 4.0, https://commons.wikimedia.org/w/index.php?curid=38571790
Rotterdam
An underground system below sea level
For the first construction phase, the New Meuss underpass, the tunnel segments were constructed on the banks of the river, taken by boat to the corresponding location and lowered down to the level of the riverbed into a trench that had been prepared.
The tunnel ceiling is around 12.5 metres below the sea level.
The cut-and-cover method, in which the soil is removed from the surface, cannot be used in such situations as the trench would fill up with water in no time at all.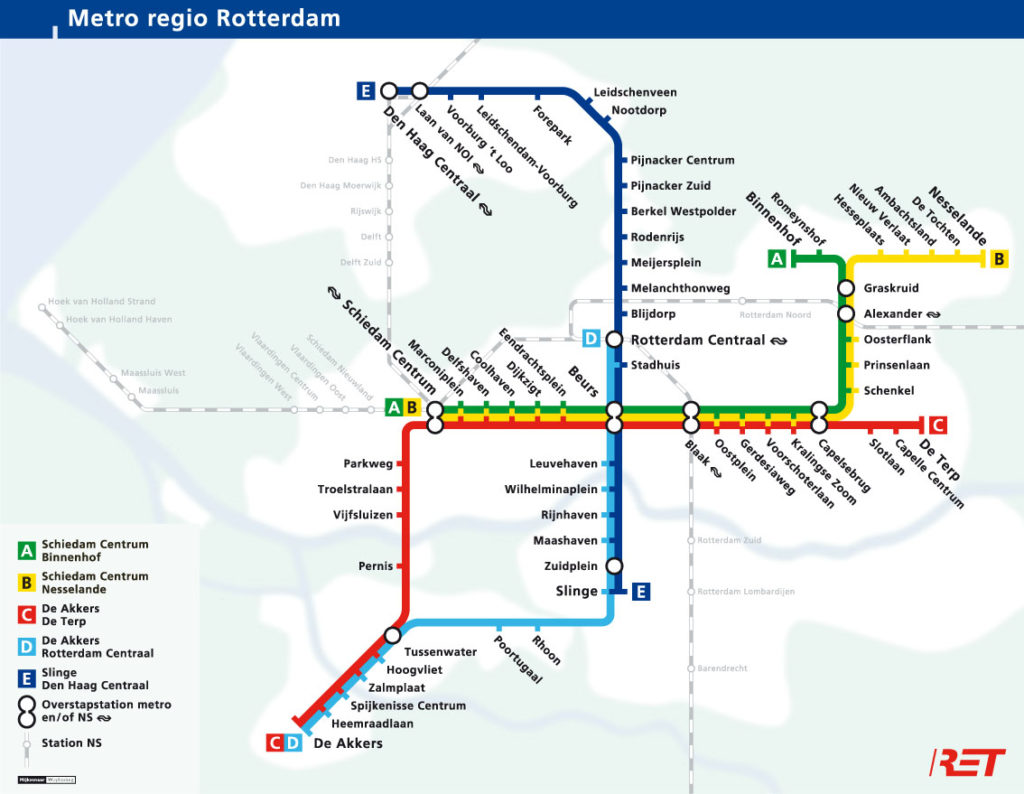 Network Maps, Rotterdam underground, 2011
Von RET (Uploaded by Henk Obee) – http://www.ret.nl/reizen-met-ret/kaarten-en-plattegronden, CC BY-SA 3.0, https://commons.wikimedia.org/w/index.php?curid=17754735
Stockholm
The longest art exhibition in the world
The decision to turn the 'Tunnelbanan' into the 'longest art exhibition in the world' was taken in 1955 by the Stockholm city council.
Since this time, the city has shelled out considerable sums to exhibit are underground. More than 150 artists have their work on display in 90 of the 100 stations.
Several stations have temporary exhibition areas with varying displays.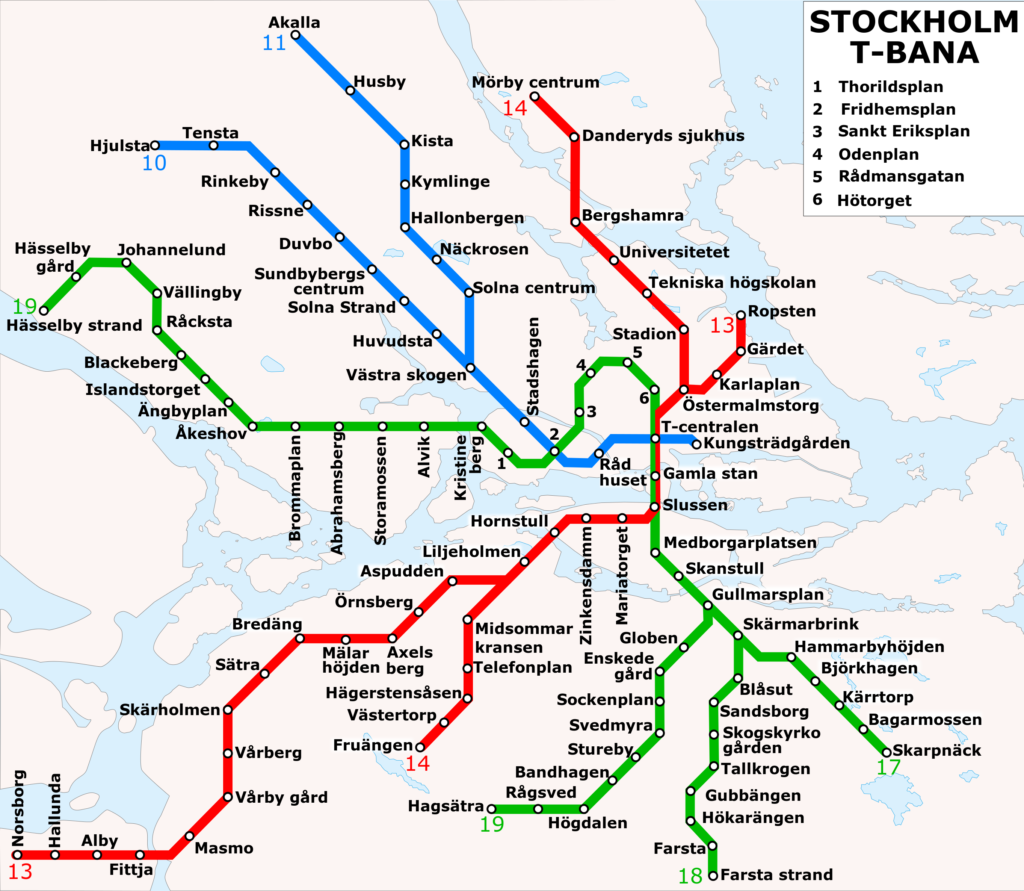 Network Maps, Stockholm underground, 2011
Von user:xyboi, redraw by Stonyyy – Stockholm_metro_map.png, CC BY-SA 3.0, https://commons.wikimedia.org/w/index.php?curid=16224884
Warsaw
The young underground
There were plans for an underground in Warsaw even before the Second World War.
To determine the best construction method, an 800 metre-long tunnel was dug in 1953; however, this remains unused today.
Warsaw's underground era only began in 1995, with 20 years passing until a second line was opened.
While the first underground stations followed a standard design concept, stations built after 2000 were each designed individually.
The station Plac Wilsona was voted the most beautiful underground station in the world in 2008.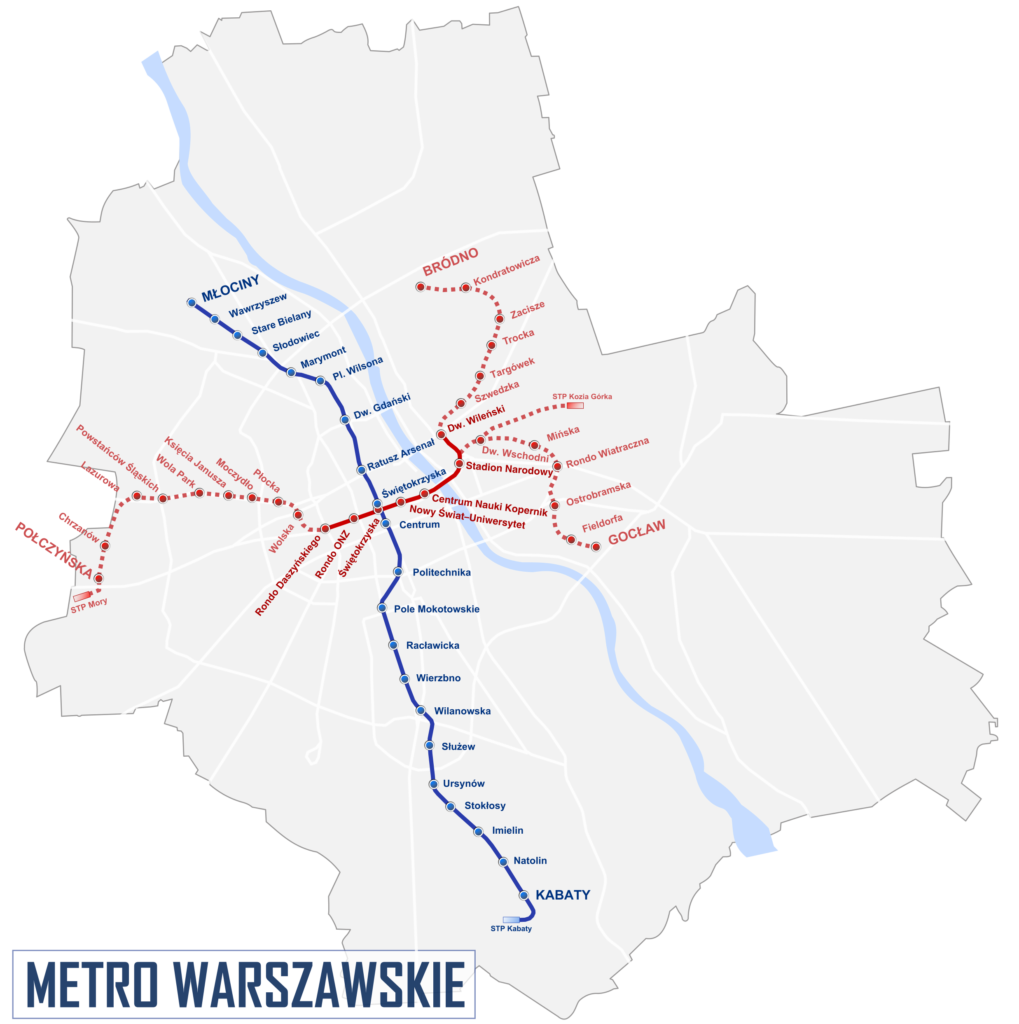 Network Maps, Warsaw underground, 2008
Von Jurij – Eigenes Werk, CC BY-SA 3.0, https://commons.wikimedia.org/w/index.php?curid=5090567