Type V subway train in Vienna
The V is a new type of subway train that has been in service in Vienna since 2017. It is a 4-car train built by Bombardier Transportation. This is Vienna's first subway with a top speed of 80 kilometers per hour. The V can accommodate up to 1,300 passengers and is equipped with air conditioning and passenger information. V trains are used on the U1, U2, U3 and U6 lines.
The V is a state-of-the-art subway train that takes the Vienna subway to a new level. It is faster, more comfortable and more environmentally friendly than the trains previously used. The V type is equipped with an energy-efficient propulsion system that consumes 30 percent less energy than its predecessor. The train is also equipped with air conditioning to ensure a comfortable riding environment. The V train also has a passenger information function that provides passengers with information about the train's route, stops and arrival times.
Advantages of the Type V train
It is equipped with step-free entrance doors to facilitate access for people with disabilities.
It has improved safety equipment to enhance passenger safety.
It has a modern design and blends harmoniously into Vienna's cityscape.
The V-shaped subway is a milestone in the development of Vienna's public transportation system. It will help improve the quality of life in the city and increase people's mobility.
Technical data on the V-car
Client: Siemens
Design: Porsche
Vehicle length: 111.22 meters
Vehicle width: 2.85 meters
Height: 3.6 meters
Vehicle mass (empty mass): 188 tons
Maximum speed: 80 km/h
Seating capacity: 260
Standing room: 618
Capacity: 1,300 passengers
Equipment: air conditioning, passenger information
Date of commissioning: 2017
The V-shape is an important contribution to improving public transport in Vienna. It will be faster, more comfortable and more environmentally friendly than the trains currently in use and will help to increase the attractiveness of the Vienna subway.
Photos
The Type V railcars are the successor generation (before that, the Type U was in service) at the Vienna Underground. It has been in production since 2000 and runs on all lines except the U6 line.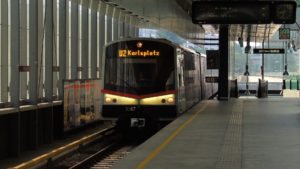 Type V railcar on the U2 line at Krieau station
pixabay.com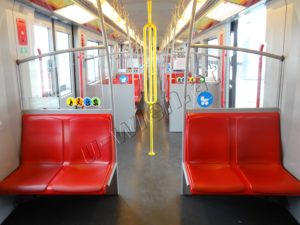 Railcar type V on line U2, interior view
own representation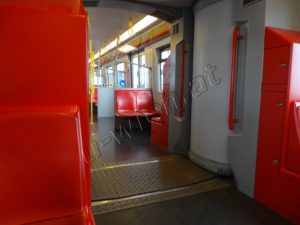 Railcar type V on line U2, interior view
own representation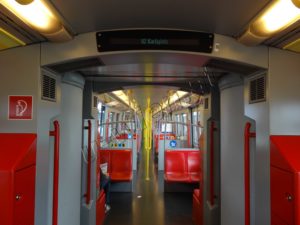 Railcar type V on line U2, interior view
own representation