Archaeologists are informed about the course of the planned route, even before construction work begins, so as to be able to respond quickly in case of any findings.
They document all previous findings in the area concerned. Areas of archaeological interests include a zone in Hernals, where there were many workshops during Roman times.
Archaeological findings in Vienna are generally no more than four metres below the surface, which is why care usually needs to be taken when building stations, but not when tunnelling deeper underground.
---
Selection of archaeological finds in the course of subway construction
Virgil Chapel under St. Stephen's Square
A "by-product" of the construction of the subway is the discovery of archaeological cultural assets:
As early as 1972, the medieval Virgil Chapel under Stephansplatz was uncovered during the construction of the U1.
Since 1984, experts from the city's archaeology department have been consulted prior to the start of construction so that possible sites can be taken into account from the outset.
Roman finds
A Roman oil lamp was discovered in the area of the Roman camp suburb (canabae legionis) on the Freyung.
The excavations revealed extensive Roman, medieval and modern settlement traces.
The further surroundings up to the area around the U2 station Frankhplatz/Altes AKH is also classified as an archaeological hope area.
Remains from the Battle of Aspern
During construction work for the extension of the U2 subway line to Flugfeld Aspern, archaeologists uncovered burials of soldiers, mass graves and a horse skeleton.
These date back to the Battle of Aspern in 1809.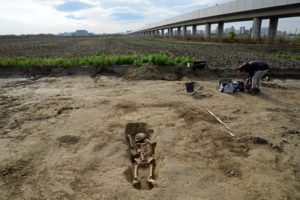 Only in October 2016, among other things, a burial of two soldiers, near the station U2 Seestadt, was found. The U2 extension to Seestadt Aspern already took place in October 2013.
M. Penz/Stadtarchäologie Wien